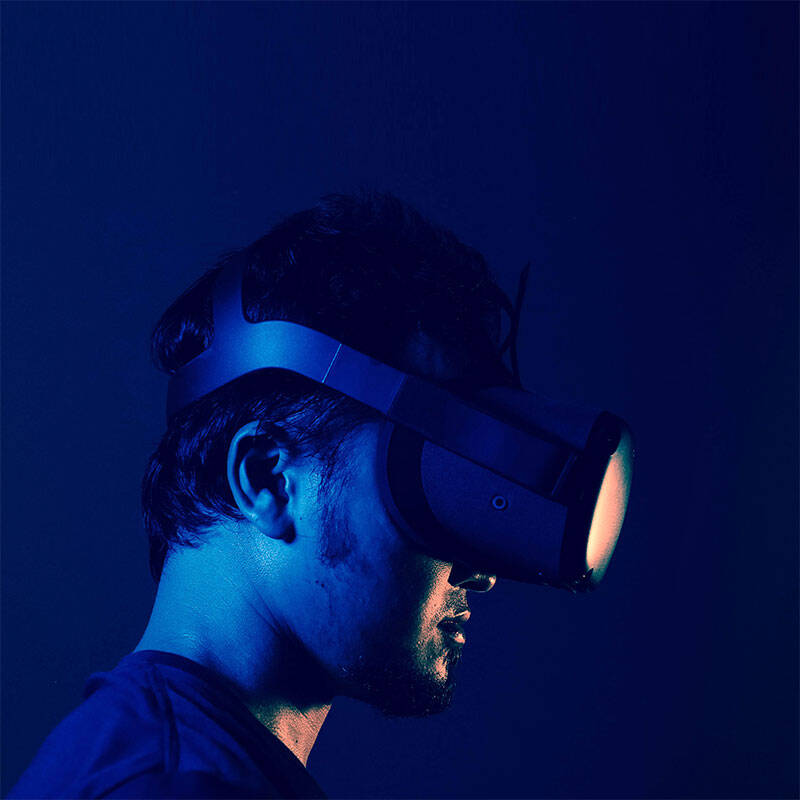 R&D in the industrial environment

WHAT ARE THE USES FOR VIRTUAL AND AUGMENTED REALITY?

Manufacturers are investing more and more in new technologies, particularly in Virtual Reality (VR) and Augmented Reality (AR).Thanks to a market study initiated by Apside Aix and its technical and research & development director, major manufacturers like Thyssen-Krupp, Renault Trucks, Dassault, Safran, and even Airbus Group have invested in these mixed reality technologies.
The context for using Virtual and Augmented Reality solutions in industry
At Apside, we implemented an innovation project on this topic for one of our clients. Our employees also provided support in the deployment of augmented reality glasses by executing the following key stages:
Data integration in glasses
Project monitoring
Training of future users
Technical and functional tests
And finally, the drafting of procedures.
Our teams have also developed various 3D environments and parts in line with our daily technical activities.Because of this, we could help the new arrivals and train them on specific procedures that they have to understand or on certain working methods (immersion in a professional context, simulation of professional techniques, etc.), and more.This rapidly-growing technology offers unlimited potential for project development.This is how the HoloLens project emerged with the aspiration to adapt to all players in the industrial sector (large groups, mid-sized companies, SMEs).
Technologies linked to Virtual and Augmented Realities in industry
Naturally, a technical director and developer teamed up to launch the Mixed Reality project. Initially trained in Python, C++ and Matlab, our developer took a C# course at the Academy by Apside, as well as a course in Unity 3D to master the technical basics required for the project.
Since the launch of this in-house project, the team has expanded to include developers, innovation experts, consultants and user technicians from other agencies. They provide occasional or regular support for the development of our solutions.
Internally, it quickly became clear that the use of these glasses in an industrial environment would be useful and pragmatic. So, as a first step, we began using these glasses to enhance our Follow Your Collab training courses. For example, virtual and augmented realities will be used to enhance a Catia training module. In this module, our trainer retrieves the parts designed by the trainees on the Catia software; these parts are loaded into the glasses, enabling us to check in 3D whether the trainees' creations are suitable. A tutorial is of course necessary to understand how to handle the parts, as manipulating 3D parts in AR is not easy.
The aim is to learn how to handle them with precision. This type of process is important, as many of our customers use AR for assembly markers. This enables us to superimpose the initial plan that has been defined, and check that it corresponds to reality.
The second objective of this project is to develop a customer demonstration medium. The technology associated with AR/VR goggles enables video sequences to be recorded and photos to be taken. Our sales teams use these video supports and demonstrations to provide customers and prospects with concrete evidence of Apside's expertise. It's a real opportunity to demonstrate our know-how in the service of proven industrial needs.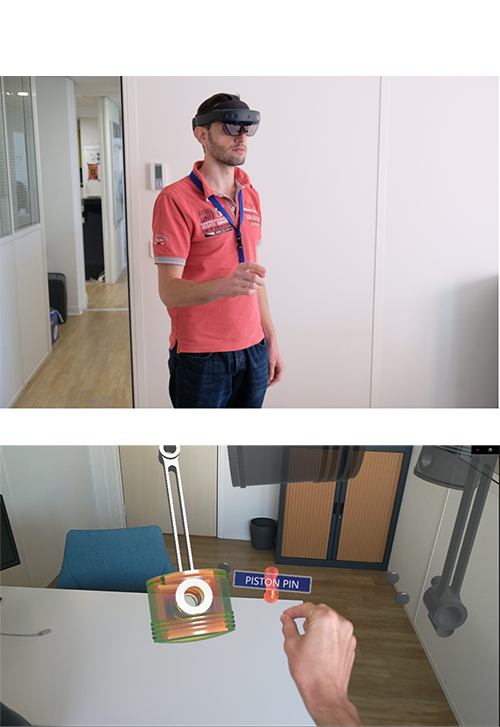 Virtual and Augmented Realities
the progress of the HoloLens Apside project
1

YEAR

Project running for

5

ONBOARDED EMPLOYEES

Team

3

BRANCHES INVOLVED

Cross-sector approach
Our teams have been working on the project for 1 year now. While unfamiliarity with Unity 3d software or the C# language could have been a major difficulty, it turned out to be an opportunity for a skills upgrade; and thus a chance to work on an innovative and ambitious project.
Our teams have also had the opportunity to test different technologies, both in-house and at our customers' sites. The work carried out so far looks promising, and opens the door to a possible evolution in the use of glasses at group level, thanks to our innovation referents at Apside.
The Augmented and Virtual Reality for Industry project was deployed for the first time in training sessions, which began on April 1. Trainees were able to work on Catia and increment drawings in the glasses. They then handled the parts and tested the assembly sequence of the star motor.
This type of project, based on pragmatic observations made in the marketplace and resulting in an innovation that enhances the skills of both employees and customers, is the very essence of Apside and its teams of enthusiasts. Our short-term ambition is to continue developing training modules for our teams, but also to present our project and our offer (consulting on solution choice, program development, project management and deployment support) "Augmented and Virtual Realities for Industry" to prospects and customers!
OUR PROJECTS
Our expertise at the service of your needs
Our projects benefit from the expertise of our renowned experts. Thanks to this expertise, the emergence of innovative solutions tailored to your needs is guaranteed.
Carry out a project
Do you have an idea for a project, but you don't know where to start? Our team of experts is ready to assist you. Contact us today to discuss your project and find out how we can work together to make it happen.
Contact us